Productions
Summer Spectacular 2021
Regent Centre, Christchurch, Dorset
Christmas Spectacular 2020
Bournemouth Pavilion
Christmas Spectacular 2019
The Regent Centre, Christchurch
Keep Smiling Through 2019
The Regent Centre, Christchurch
Christmas Spectacular 2018
The Regent Centre, Christchurch
Christmas Spectacular 2017
The Regent Centre, Christchurch
Christmas Spectacular 2016
The Regent Centre, Christchurch
Summer Spectacular 2016
The Regent Centre, Christchurch
Christmas Spectacular 2015
The Regent Centre, Christchurch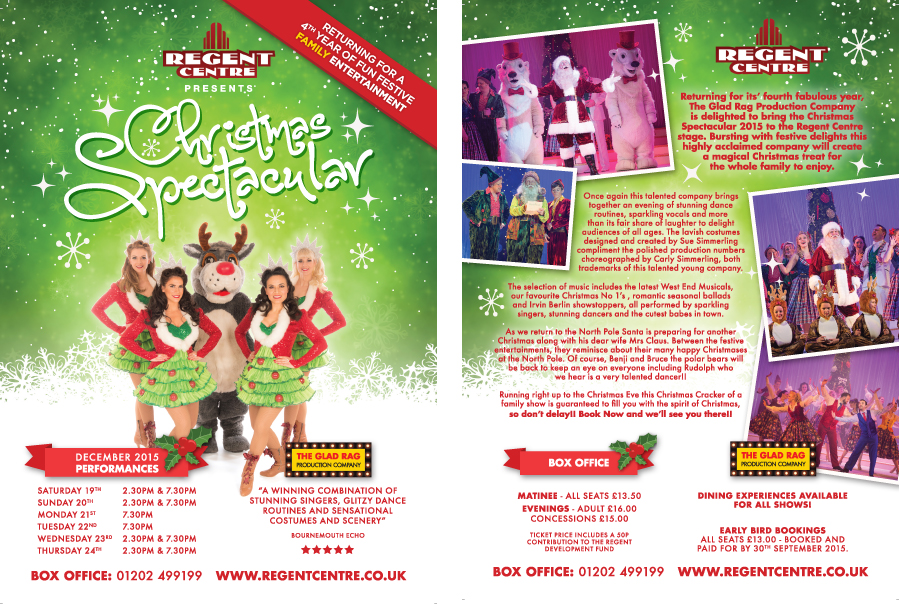 Christmas Spectacular 2014
The Regent Centre, Christchurch
Easter Holiday Special 2014
The Regent Centre, Christchurch
This exciting new project will be at The Regent Centre this April (2014) and promises all the elements that have made the Christmas Spectacular so successful. Bright, colourful and packed of fun, this production will put a spring in your step despite the unreliable British climate. Easter fun at it's best and none of the calories!!
Christmas Spectacular 2013
The Regent Centre, Christchurch
Christmas Spectacular 2013 went down a storm! We had many of the original company returning with some new performers which created a great story line packed full of dazzling dancers, stunning showgirls, sumptuous costumes, sensational singers, dancing Santas, comedy elves and the cutest babes in town.
We even managed to pop the "SOLD OUT" sign on the last two performances
– Christmas Eve was great – and we are already looking forward to the 2014 show!
Christmas Spectacular 2012
The Regent Centre, Christchurch
After working on many productions, with various companies, all over the U.K we decided to venture out into the world of "show biz" on our own… We created the Glad Rag Production Company and after talking to our favorite local theatre, The Regent Centre, we decided a Christmas Spectacular would be the perfect first project.
This is the Flyer from our first year show, we are delighted to have been asked back and cannot wait to get started on next Christmas.